Finding the optimal timing for social media posting is of paramount importance for online managers. Indeed, time is undeniably one of the most important elements when it comes to social media mastery. Figuring out the best times you should be posting to and engaging with your fans and community to maximize ROI consequently represents a crucial question.  Egluu has collected research and stats on Twitter, Facebook, email and blogging to help you identify the best time to communicate with your audience in each format.
FACEBOOK
In terms of specific days to post on Facebook, a study from Buffet found that engagement rates are 18% higher on Thursdays and Fridays. According to Buddy Media's study, this trend reflects the fact that "the less people want to be at work, the more they are on Facebook ".

Generally speaking this would mean that the best time of the week to post is towards the end of the week. This coincides with data recently revealed by Facebook showing that the "Happiness index" spikes by 10% on Friday. Another study found that engagement was 32% higher on weekends.
All in all we can consequently conclude that the end of the week is definitely a good rough guide to start experimenting with.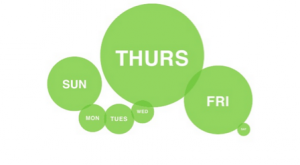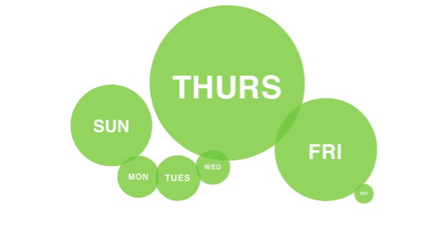 The best time of day to post on Facebook is debatable, with stats ranging from 6-8 am, to 2-5pm on weekdays, to the broader suggestion of anytime between 9am and 7pm. It seems that this generally points to early morning being a solid time to post, as 80% of mobile Facebook users check their phone early each morning, so do they early  in the afternoon after the lunch break.
TWITTER
According to Dan Zarrella's research, Twitter engagement for brands is 17% higher on weekends.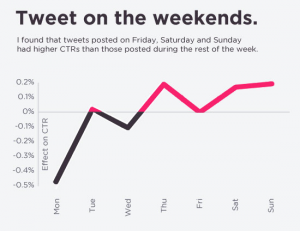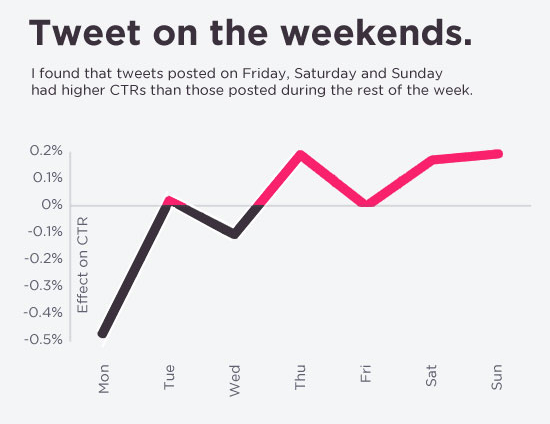 The same study found that click-through rates are generally highest on weekends, as well as mid-week, on Wednesdays. When looking at the time of day, retweets have been shown to be highest around 5pm, while click-throughs seem to be around noon and 6pm. This could be due to lunch breaks and the fact that Twitter is a popular network for mobile users who are looking for something to keep them occupied on the commute home after work.
EMAIL
Many marketers have investigated the best time to send emails. Some research done by Dan Zarrella from Hubspot broke down each time of day and worked out which type of emails work best for that period. Here's what he found:
10pm–6am: This is the dead zone, when hardly any emails get opened.
6am–10am: Consumer-based marketing emails are best sent early in the morning.
10am-noon: Most people are working, and probably won't open your email.
Noon–2pm: News and magazine updates are popular during lunch breaks.
2–3pm: After lunch lots of people buckle down and ignore their inbox.
3–5pm: Property and financial-related offers are best sent in the early afternoon.
5–7pm: Holiday promotions & B2B promotions get opened mostly in the early evening.
7–10pm: Consumer promotions are popular again after dinner.
In addition to the adequate time of the day e-mail should be sent, another factor that needs to be taken into account is the fact that 23.63% of emails are opened within an hour of being received.
BLOG
The pros and cons of the proper timing to post on blog:
If an article is posted during time of higher traffic, marketers are more likely to have higher bounce rates but also to get lost amongst the noise of other content being published. On the other hand, posting at times when fewer people are online will garner less traffic and engagement, but give the posts more prominence and less competition against other content.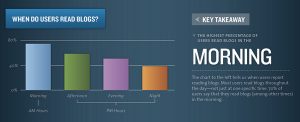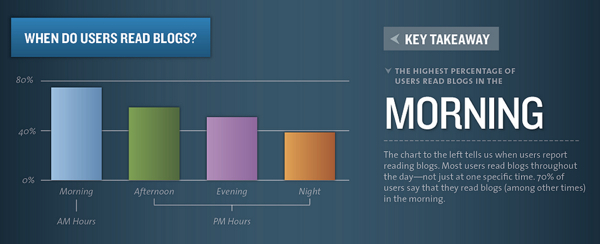 To help you determinate the best blog timing, here are some useful stats from Dan's research into blog timing:
70% of users say they read blogs in the morning
More men read blogs at night than women
Mondays are the highest traffic days for an average blog
11am is usually the highest traffic hour for an average blog
Comments are usually highest on Saturdays and around 9am on most days
Blogs that post more than once per day have a higher chance of inbound links and more unique views
Another study found that posting once per week, on the same day every week increases blog traffic and generates best results. Choosing the right day and time to post will therefore depend on your audience and objectives.