Although the idea of fashion migrating to the online channel initially aroused scepticism, the doubters quickly realized the potential of the industry in the Internet channel. "At $41bn, fashion is now the second largest and fastest growing e-commerce category in the US", says the GP Bullhound Bank Team. Generating some of the best returns in the Internet space for investors, the fashion sector has definitely overcome many challenges to become one of the most lucrative e-sectors for investors and entrepreneurs.
The online future of fashion has been recurrently questioned. Initially, purchasing fashion items without trying them on sounded unconceivable. Moreover, by selling their products outside of the carefully curated shop environment, brands could have risked to threat their brand image and shopping experience. However, despite these apprehensions, fashion has become the second largest e-commerce sector after computer electronics (18% of total e-commerce), and the fastest growing in the US. A report of the GP Bullhound LLPF has forecasted that e-fashion would reach $73bn in market size by 2016 and consequently contribute nearly a quarter of total e-commerce growth in the US between 2012 and 2016.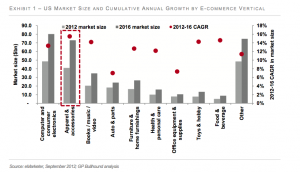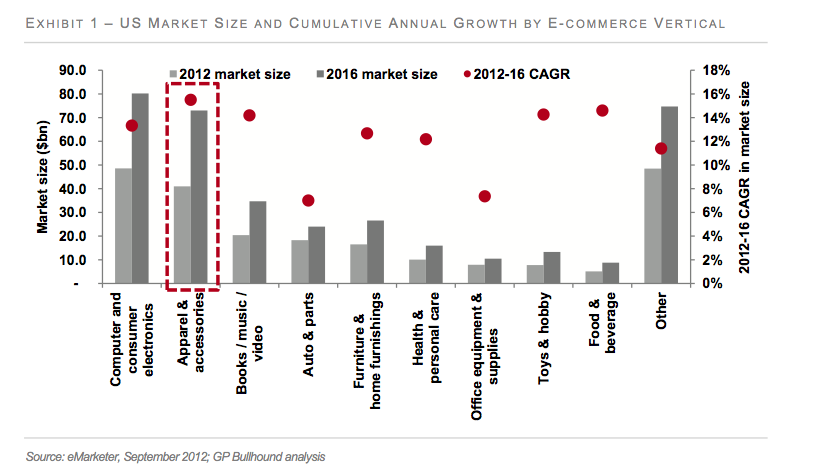 The report also points out that "online fashion content is one of the most engaging segments within e-commerce and highly integrated within the social sphere".
Nowadays, product trends are shared across every online segment of the industry and selling out simultaneously across each segment too. Online fashion is also considered as global. In effect, thanks to web developments and social media inclinations, online fashion platforms are able to reach an international audience and leverage worldwide trends and influences.
Nevertheless, some premium and luxury fashion brands are still reluctant to embrace new technologies due to the fear of their offering becoming "lost" and undifferentiated amongst other retailers on the web. Such retailers are often afraid of provoking brand devaluation if losing control of the consumer-shopping environment and experience. In this context, Burberry has proved that the combination of online channel and fashion could be beneficial even for premium brands.
Being one of the more advanced brands in terms of online media campaigns ranging from a bespoke trench coat ordering portal, to live catwalk show streaming; Burberry has demonstrated that the integration of online channels to the brand's marketing strategy was promising and successful.
With the number of apparel sites growing by 126% year-on-year, the online apparel industry is becoming increasingly crowded. As a result, there is growing competition for online users, and apparel suppliers have more choice than ever of online retailers to partner with. The sector is continuously reinventing itself through new ways of acquiring and engaging with audiences and operating within the supply chain, stemming both from new start-ups to traditional and online businesses launching or recreating their existing e-commerce offering. To boost their online presence, retailers often rely on experienced third-party e-commerce services specialists to deliver logistics, customer services and online-marketing strategy.
Egluu is one of them, and would be pleased to help you to develop your online presence and increase your web traffic whether you are operating in the fashion sector or not.